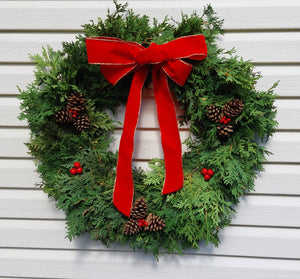 Traditional Cedar Wreath 30"
The beauty of this traditional wreath will delight you. A red velvet bow, cones and red berries create a beautiful contrast against the cedar branches. The Arbovitae cedar is long-lasting and and can even be re-used for arrangements of dried flowers.
All of our wreaths are hand made using freshly cut branches. They are delivered in a gift box with a personalized gift card. To maintain your wreath's freshness, avoid hot, dry and windy locations. If you install your wreath indoors, mist with water regularly.